Video shows early reactions to BlackBerry 10
11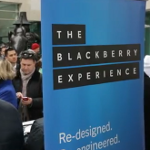 With the presidential inauguration bringing plenty of people into Washington D.C., RIM decided it would set up a tent in conjunction with the Canadian Embassy. The idea was that users could come in the area and test out BlackBerry 10 on the
BlackBerry PlayBook
. Why not give them a
BlackBerry Z10
to test? Somehow, we could see that turning into a
PR nightmare
for RIM with Mr. Blurrycam and his whole extended family (Mr. Badcrop, Granny Lowflash, etc.) taking pictures of what is supposed to be top secret until next Wednesday. On the other hand we're not certain that the experience portrayed BlackBerry 10 as it should.
BlackBerry Balance
, which allows you to have one for work and play. At work, certain apps can be used while others cannot, and your company's IT department has some control over the phone. But shift into play, and you have complete freedom. The word correction system also received some praise. We've seen how a suggested word shows up on the virtual QWERTY where it can be swiped into a message. The smoothness and responsiveness of the OS was also receives special attention.
Things are falling into place and unlike other handset manufacturers, there actually seems to be a real live buzz around BlackBerry for the first time since the
BlackBerry Storm
was set to become the first touchscreen 'Berry. But this time, it looks like RIM has cooked the software just right for the launch.
source:
RIM