Video of three column support on older devices with Windows Phone 8.1
7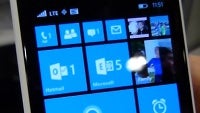 Despite rumors that Windows Phone devices with
screen sizes under 4.5-inches would not get this feature
, it turns out that all Windows Phones will indeed get three-column support for Live Tiles.
That means you can pack your screen full of tiles whether it is a small
Lumia 620
(3.8-inches) or the more mainstream Lumias like the
Lumia 925
or
Lumia 1020
flagship (each with 4.5-inch screens). Given how compact looking the smaller tiles look even on the Lumia Icon, we were anxious to see how well the Live Tiles lined up on these devices with slightly smaller screens.
Turns out, they look great. Unless you have massively fat fingers or thumbs, you should have no problems with smaller tiles. We were not able to reproduce the three-column support on the smaller Lumia 520s Microsoft had on hand due to the devices being locked in a "retail display" mode, which prevented several settings from being activated.
If you find yourself with a Lumia 920, 925, 928 or 1020 in your pocket, then you can tell in our brief video how the new Live Tile arrangement looks compared to the current set-up. Frankly, we think Microsoft made the right call enabling support regardless of screen size. By putting the choice in our hands we can easily make the devices work the way we want them too. Of course, all you need to wait for is Window Phone 8.1 to get pushed out.
Which device do you have? How big a difference will three-column support mean to you?