Video of Skype for Windows Phone 8 demoed on HTC 8X
11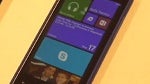 Derrick Snyder, the man leading the mobile marketing effort at Skype, offered up a demonstration of how deeply integrated Skype is with Windows Phone 8. After Microsoft acquired Skype late last year, it was widely expected that Microsoft would embed Skype deep within the Windows ecosystem.
The formal release of Windows 8 on October 26th will certainly allow us to see the computing and tablet integration. What about Windows Phone 8? Well, we get to look at a brief, semi-in-depth look at how Microsoft has developed a native app for the all-new mobile platform and it is, by and large, looking great.
The app will run in the background for starters. Naturally, it is integrated with your PIM (people hub) and will even ring with the Skype ringtone so you know it is not a normal cellular call. Group chat is available and calls can be initiated from contact profiles. About the only option we did not see was the ability to integrate the Skype messaging into the Messages feature (like for SMS, MMS, Live and Facebook), but that may have been overlooked in this short demonstration.
It is a significant improvement over the app that is currently available to Windows Phone 7.5 users and is certainly something we are looking forward to seeing. Right at the end, we get a peek at the wide-field front-facing camera of the
HTC Windows Phone 8X
being used in the demo. That is another feature we are also eager to try out.
source:
wpcentral