Video of Android 2.2 in action on Motorola DROID
This article contains unofficial information.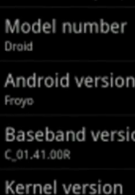 Android 2.2 brings with it some new options when it comes to storing the apps that you download from the Android Market. While that is exciting news, consider that the handset that is being used in this video is a Motorola DROID. Thanks to the guys at MyDroidWorld, you can see that apps can be installed to a microSD card. When you click on "Preferred install location" you are given three choices where to place your downloads from the Android Market. You can pick "Internal device storage", which is where your apps currently reside, "Removable SD Card" or "Let the system decide". The video also shows you a quick look at the new tethering option that is also a part of the 2.2 upgrade. DROID owners have had to learn patience with the on again, off again, on again approach that Motorola took with Android
2.1
. With the HTC Desire expected to get the upgrade on June 23rd as we
reported
, DROID owners are not going to be a happy bunch if they have to wait past that date for their Froyo.
Motorola DROID Specifications
|
Review
source:
MyDroidWorld