Video feature coming to Yelp, starting next month
1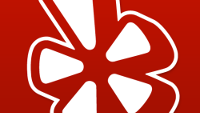 If a picture is worth a thousand words, how many words is a video worth? We soon might find out as video reviews are coming to Yelp. This should help reviewers better capture the atmosphere of a certain restaurant, when words alone can't convey the message. In the early days of June, "elite users" of the app will be allowed to upload 3 to 12 second videos, before Yelp rolls out the feature to everyone. Even if you can't record a video right away (a polite way to say that you're not an "elite user"), you can still view any of the videos made by others.
Mobile is a major part of Yelp's game plan. The latest stats show that 70% of Yelp's daily number of uploaded pictures, come from a mobile device. That works out to about 23,000 pictures uploaded daily. Offering video should help raise Yelp's mobile usage to an even higher percentage.
"It will be a reward for businesses that go to great lengths to achieve a certain ambiance, whether by having a certain lighting or the music at just the right level."-Madhu Prabaker, Mobile Product Manager, Yelp
Once the video feature is added to Yelp, users writing and posting a review will be prompted to add a video. You will have 12 seconds to record the video and a green circle on bottom will keep track of how much time you have left. Select a cover picture and a caption, and you're done. Over time, as more people post a video, the more useful ones will be on top.
Sounds like a clever and useful way to enhance a review. Will you be adding video to your Yelp reviews?
source:
BusinessInsider