Video Hangouts no longer require a Google+ account
11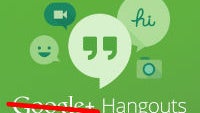 There has been a lot of news over the past day about Hangouts, and now we have news that will make our own
PhoneArena
community member Mxy quite happy indeed. If you haven't noticed, Google has been disconnecting Google+ from other apps, and now it has been disconnected from Hangouts, meaning you don't need to have a Plus account to use Hangouts video chat.
We would point out though that you were never really
forced
to use Google+ as some believe. For a while there, Google+ came as an automatic part of a Google account, but all that really meant was that you had to use a name that looked real (even if it wasn't). Actually using Google+ was never a requirement. However, Hangouts was born in Google+ and so it makes sense that it would have been connected to the service at first. Now, Hangouts has broken out and exists in Gmail and as its own app on Android and iOS, so Plus isn't necessary.
So, Google Apps users and those without a Google+ account can use Hangouts to video calls with up to 15 people. You can also create, edit, or join a Hangout from a Google Calendar entry, which is pretty nice. This is part of the new
Hangouts update
that has pushed out to both Android and iOS, so if you have version 2.3 on Android, or version 2.2 on iOS, you'll be good to go.