Viber iPhone app adds free texts to its free calls service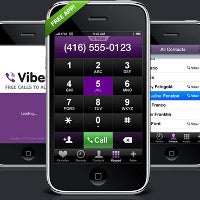 Viber, an iOS telephony app, might mimic Skype in functionality, but with the addition of freetext messaging in the latest 2.01 version it might even make youswitch to its services. Unlike Skype, Viber integrates tightly withyour iPhone's phone book, so you don't have to keep a third-party appopen at all times. In addition, you also get unobtrusive notifications allowing you to continue what you're doing without being distracted.

After installing it, you can call andtext other Viber users for free and push notifications won't let youmiss a message or a call. The new version adds a fresh polish to theuser interface. So why don't you check it out on the App Store (an Android version is in the works as well), thevoice quality is pretty decent and it's free. Nothing can beat that,can it?
source: TUAW