Vertu Constellation Blue and Constellation Quest Blue are unveiled, look pretty
15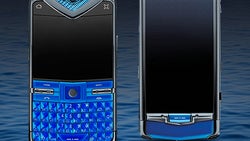 And now, a couple of phones made for the people that value the finer things in life. Also, for those who can afford spending piles of cash on a sparkly handset. The Vertu Constellation Blue and Constellation Quest Blue have been unveiled, and boy do they look fancy!
As the case is with Vertu phones, the devices are hand-crafted using only materials of high-quality. Both the Constellation Blue, which is a touchscreen handset, and Constellation Quest Blue, equipped with a QWERTY keyboard, are made using blue carbon fiber, two-tone rubberized leather, and stainless steel that has been polished to perfection. Their screens are protected by a layer of sapphire glass for outstanding resistance to scratching. Blue sapphire crystal has been used for the buttons.
Specs-wise, things don't look that pretty, but than again, whoever is interested in these smartphones wouldn't really care. The Vertu Constellation Blue has a 3.5-inch AMOLED touchscreen with the common for Symbian handsets resolution of 360 by 640 pixels. It also has an 8-megapixel camera, 32GB of storage, Wi-Fi, 3G, GPS, and FM radio. The Constallation Quest Blue is equipped with a 2.46-inch VGA display, 4GB of storage, and offers identical connectivity features.
As a part of the deal, all buyers may take advantage of the Vertu Concierge service, and get exclusive ringtones performed by the London Symphony Orchestra. Pricing has not been disclosed.