Verizon's signup page for the Samsung Galaxy S4 now up, pre-registration for the device now starts
5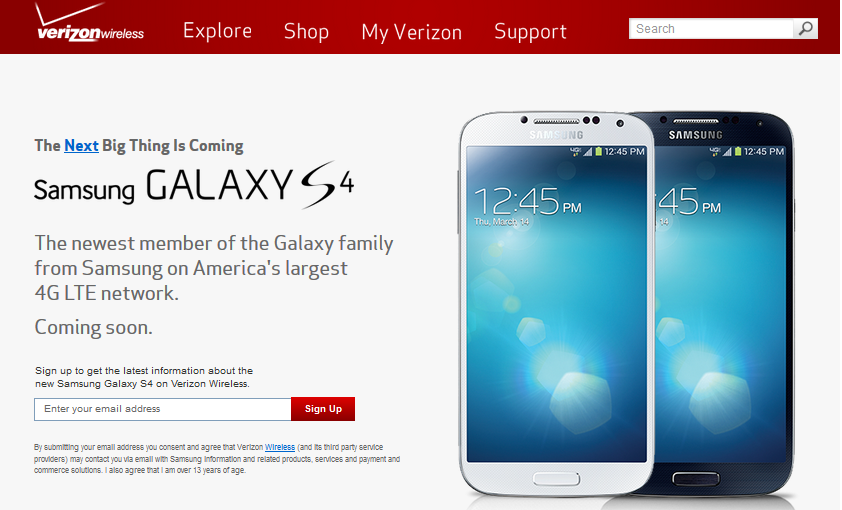 Verizon is taking pre-registrations for the Samsung Galaxy S4
On Thursday,
Verizon sent out a tweet stating that the Samsung Galaxy S4 will launch sometime next month
. While Big Red subscribers would love to see the device released on May 1st, we have to go back to that leaked document that we passed along to you last weekend. On that internal Staples memo was a tentative launch date of
May 30th
for the
Samsung Galaxy S4
via Verizon. If it turns out that the leaked memo has the right date, we couldn't blame Verizon customers for being upset. AT&T is launching its version of the device on April 30th. That means that
a month could separate the release of the next Android flagship on AT&T and on Verizon
.
If you are a Verizon customer, you can now pre-register for the Samsung Galaxy S4. Unlike a pre-order, when you pre-register you are
not reserving
a device or putting up any money. All you are doing is giving the carrier your email address so that it can inform you when pre-orders will start and when the phone will launch. Hey, you've got nothing to lose. Click on the sourcelink and sign up and Verizon will be sending you the latest information on what could very well be the hottest phone of the year.
source:
Verizon
via
Engadget