Verizon's phantom $1.99 fee strikes again?
This article contains unofficial information.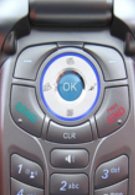 Remember how we
reported
about those mysterious $1.99 fees being billed to Verizon customers back in the summer? Apparently Big Red would automatically place those charges if you mistakenly activate the internet on your handset. Despite clicking the end button to terminate the session, the damage is already done with an automatic $1.99 charge hitting your monthly bill. Now it seems that a Verizon insider is aware about the incidents and how they refuse to prevent future problems because of the amount of money it generates for the number one wireless carrier. The same insider goes into how flip phones are designed to never get around being charged $1.99 – the up button on the directional pad would generally start a web connection. Thus incurring the automatic fee when a minimal 0.02 kilobytes of data being transferred despite quickly pressing the end button. So how about if you have one of those block features on your account and accidentally hit that same button? Sure it'll prevent even more data from being used, but the message you get on your phone stating that the service is blocked will still result in a $1.99 charge. The magnitude of this problem can be staggering when you factor in the 87 plus million customers on Verizon that can hit that button – possibly over $300 million per month in data revenue. For now, customers will have to sit back and wait to see if anything is done about this – so make sure to be fully aware of what you press on your phone.
via
DSLReports.com