Verizon's computers show carrier getting closer to LTE launch
This article contains unofficial information.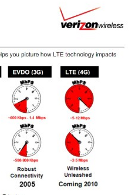 Based on a screen shot of internal Verizon computer systems and what appears to be a reference guide about LTE for Verizon customers and reps to read, Big Red seems to be closer to 4G use than it might seem. According to the carrier's info, they estimate that 100 million people will be covered by Verizon's LTE by the end of this year. The operator will introduce USB 4G modems first, to be followed by smartphones and mobile hotspots in that order. Looking into the future, the carrier sees LTE being used in combination with Smartphones and other controls to remotely set air conditioners, kitchen appliances and other home-based electrical items. Technology from the service will support videoconferencing, hi-res gaming and other interactive devices. Other data show that LTE has faster speeds going up and down than WiMax (currently used by Sprint) and the HSPA+ pipes used by T-Mobile and AT&T. With the move to LTE, Verizon's computer will soon note your SIM ID number for 4G. Feeling a tingle, Verizon users? 4G LTE is coming and it appears closer than you think.
source:
Engadget