Verizon's Samsung Droid Charge caught in the wild
28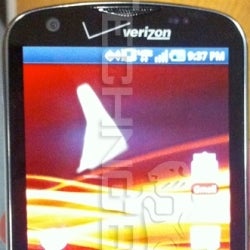 We first heard about the Samsung SCH-i520 last
December
, but then we got a very nice
hands-on look
at it during CES 2011. At that time, they were only calling it the "Samsung 4G LTE smartphone for Verizon", but we knew that it would eventually get a really cool name. Now we know it's going to be called the Samsung Stealth (or
Stealth V
) and some lucky person has been using one, so of course they took a few new pictures.
The tipster says that the Stealth is expected to hit stores by mid-April, which is not far off, since the HTC Thunderbolt keeps being pushed-back to only God knows when, and the Motorola DROID BIONIC is slated for sometime late Q2 (May-June). Furthermore, the Stealth is said to offer pretty good battery life, lasting a 8-10 hours of 4G LTE usage with the included 1500mAh battery, and as of now their data speeds aren't being throttled, but that may change once the 4G smartphones go on sale.
Other than the Samsung Stealth coming with 4G LTE, it features an impressive 4.3" Super AMOLED Plus with 480x800 WVGA resolution, a newer 1GHz Hummingbird processor (but still a single-core), an 8MP autofocus rear camera with 720p video recording and a 1.3MP front camera for video chat, HDMI output, Wi-Fi 802.11b/g/n, Bluetooth v3.0, 828MB of internal storage, and microSDHC memory card slot. It will come with Android 2.2 Froyo and with a new version of Samsung's TouchWiz interface, through the person who took these pictures says they installed LauncherPRO on the phone because they like how it looks better.
So which Verizon 4G smartphone do you want, the
Samsung Stealth
,
HTC Thunderbolt
,
Motorola DROID BIONIC
, or
LG Revolution
?
*
UPDATE
*
We recieved a tip today from a person who claims to have some more info about this device. They say the phone will actually be called the
Droid Charge
, as the name "Stealth" is already trademarked and owned by another company. The included battery will actually be a 1600mAh capacity, not 1500mAh, and the camera will be able to record videos up to 1080p. Naturally we here have no way to verify any of this, but we're not crazy about the name "Droid Charge" and think "Stealth" sounds better.
source:
technobuffalo