Verizon's "Can you hear me now?" pitchman is now with Sprint
17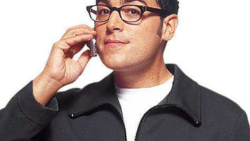 You probably don't know the name Paul Marcarelli, but if you saw a picture of him a flood of memories would return to your brain. Paul is the famous Verizon pitchman who started in 2002 asking, "
Can you hear me now?
" During the ads, he would constantly 'test' new locations to make sure that Verizon customers would be able to maintain a connection in that area.
With his horn rimmed glasses, windbreaker with the Verizon logo and a hard hat, Marcarelli became one of those commercial actors who become attached to the brand he/she pitches. Just as Flo has you thinking about
Progressive Insurance
as soon as you see her, seeing Marcarelli instantly reminds you of Verizon. For commercial actors, being associated with a brand like that means that they are at the top of their craft. And when the actor is known for a certain catch phrase ("Can you hear me now?"), he/she becomes even more recognizable.
Marcarelli hasn't been part of any Verizon advertising campaign for some time now, but he was still able to parlay his Verizon connection into a brand new gig. In a commercial in rotation during the NBA Finals, Mararelli discusses his jump to Sprint. Instead of talking about how great Sprint's network is, the ad is really designed to get consumers to understand that Sprint's service is nearly as reliable as Verizon's, but costs much less.
"Hey, I'm Paul, and I used to ask `If you could hear me now with Verizon?' Not anymore," says the actor in his new ad, disclosing his move to Sprint. "Guess what, it's 2016, and every network is great. In fact, Sprint's reliability is now within 1% of Verizon...So I switched to Sprint and millions more have too. Can you hear that?"
Paul's new boss, Sprint CEO Marcelo Claure, called the actor a free agent. The executive added, "Our goal is basically to get people when they're watching our ads or watching social media to pay attention…. I think a lot of people are going to recognize Paul and see (him) in a (Sprint-colored) yellow tee show and ask themselves, `what happened?'"
Check out Marcarelli's new Sprint ad, and his very first appearance in a Verizon commercial from back in 2002. Both are embedded below.
source:
USAToday
,
JWYoung5