Verizon's 'Can you hear me now?' actor gets his life back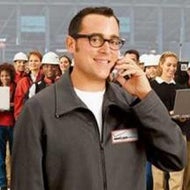 For the last nine years, "Verizon Wireless" has called to mind images of Paul Marcarelli, better known as the
'Can you hear me now?'
guy. But
now that Verizon is taking their advertising in a different direction, Marcarelli is finally free to talk about his life as one of the most iconic spokespeople in recent history
.
Marcarelli's contract with
Verizon
has prevented him from doing interviews, or having an acting career outside of the Verizon ad campaigns and appearances. While he will continue to do the occasional spot for Verizon, he is no longer under such a restrictive contract. In fact, Marcarelli is producing his own independent film,
The Green
, starring Julia Ormond.
The Test Man looks back on his time with Verizon fondly, but there were many sacrifices he had to make. For one thing, he wasn't able to act in the theater, which was very important to him. But the personal issues were the most daunting.
At a family funeral, while the body was being laid to rest, he heard someone in the crowd whisper, "Can you hear me now?"
.
Perhaps the most heart-wrenching recognition came from local kids outside his home in Guilford, Connecticut. They would drive by his home late at night, yelling the famous catchphrase. But soon, after they realized that Marcarelli was gay, the kids would yell homophobic epithets as well. Marcarelli called the police, but ended up dropping the report, for fear that the ensuing media drama would endanger his Verizon contract.
Looking back, Marcarelli imagines that he was being overly cautious with his contract, but he doesn't regret his time with Verizon:
"Don't feel bad for me, but I'm definitely glad that chapter is over. Most people my age are now trying to trade in their street cred for money, and I kind of made my money. I still want to make something of value"
.
source:
The Atlantic
via
Wall Street Journal