Verizon creams Sprint in battle of 5G dataspeeds
9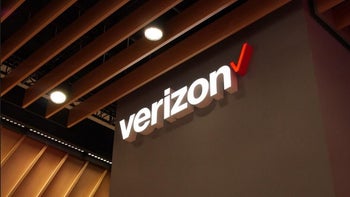 You might be familiar with the Speedtest.net app found in the
Apple App Store
or
Google Play Store
. The app measures the dataspeed of the user's cellular and Wi-Fi connections. Today,
the Speedtest blog revealed
the difference in download and upload speeds between Verizon's mmWave 5G network, Sprint's sub-6GHz 5G network, and the 4G LTE speeds for both carriers. If you're wondering why AT&T and T-Mobile aren't included in this report, it's because AT&T had yet to launch its 5G service for consumers in July, and T-Mobile had started its limited service in late June.

On average, Verizon's 5G download speeds thump Sprint's
During July, Sprint's 2.5GHz mid-range spectrum delivered 5G download speeds of 236.09Mbps on average, compared to the 870.34Mbps speed on average for Verizon. In some ways, this should be no surprise; Verizon's mmWave spectrum on the 28GHz band offers more capacity and faster speeds although the airwaves don't travel as far and penetrate buildings as well as a lower-band spectrum. Sprint's average 5G speed was nearly three times the carrier's average LTE speed for the month at 79.25Mbps. Sprint's 5G peak during July was 724.33. In comparison, Verizon's average 5G speed was more than eight times as fast as its average LTE download speed of 102.23Mbps and its peak 5G speed exceeded 2Gbps.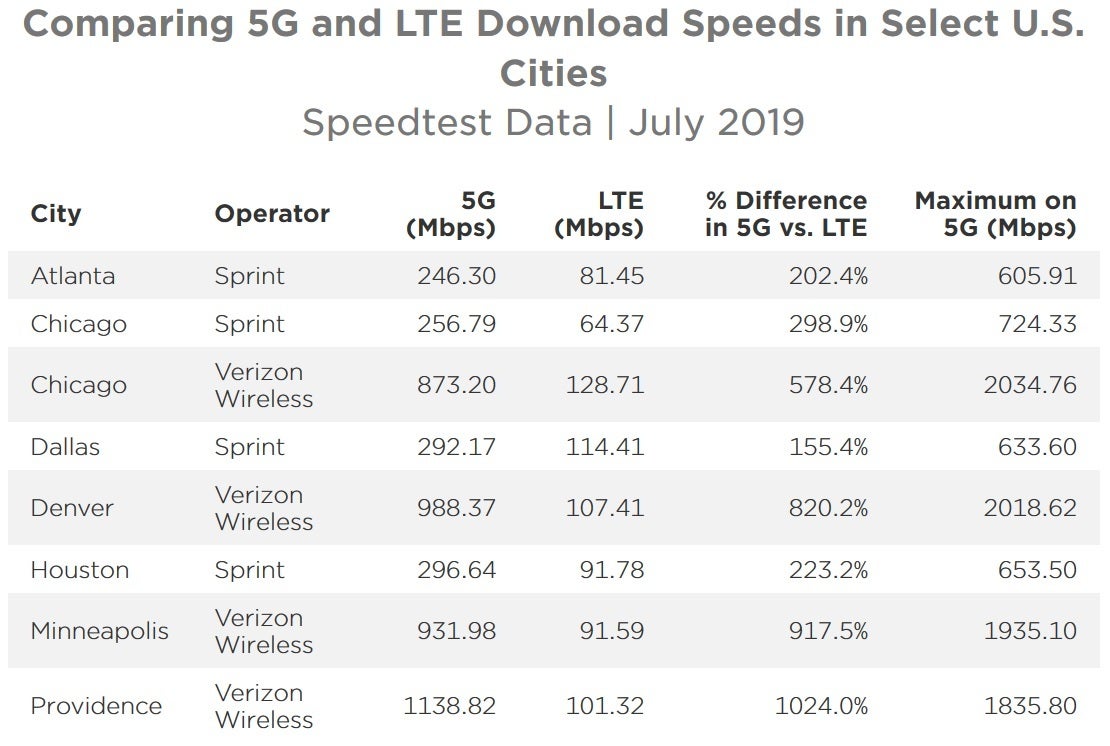 Verizon's 5G network averages a 1.1Gbps download speed in Providence
Verizon's 5G upload speed was also much faster than Sprint's

T-Mobile is looking to merge with Sprint to pick up the carrier's mid-band spectrum; the carrier hopes to combine the 2.5GHz airwaves with its 600MHz low band spectrum and its mmWave spectrum. Last month,
T-Mobile successfully completed data sessions on its 600MHz airwaves
. Once phones sporting Qualcomm's X55 5G modem chip are launched (like the
Galaxy Note 10+ 5G
), T-Mobile's low-band airwaves will come into play for 5G connectivity. The carrier hopes to be the first U.S. wireless provider with a national 5G network and could have it all built out sometime during the first half of 2020.
"The recently announced Samsung Galaxy Note 10+ 5G T-Mobile and AT&T variants will feature the 2nd generation of the Qualcomm Snapdragon X55 5G modem. When this device hits the market sometime in Q4 2019, it will be the very first smartphone with support for 5G frequency division duplex (FDD) spectrum allocations. It will also unlock T-Mobile's 600 MHz 5G network layer which aims to enhance its existing 5G coverage this year and bring broad nationwide 5G coverage next year."-Speedtest.net
The report also compared average 5G upload speeds for Verizon and Sprint in two cities, Chicago and Providence. In the former, Sprint's 5G network had an average 5G upload speed of 20.25Mbps, 2.5 times faster compared to its average LTE upload speed in the city of 8.03Mbps. The peak 5G upload speed for Sprint in Chicago was 40.96Mbps. In Providence, Verizon's average 5G upload speed was 50.55Mbps, 78% faster than its average LTE upload speed in the city of 28.28Mbps. Verizon's 5G upload speed peaked at 133.84Mbps.

Verizon's 5G upload speeds also trounce Sprint's
Just like faster 4G LTE dataspeeds allowed the rideshare industry to be created and thrive (both Lyft and Uber are multi-billion dollar companies), 5G dataspeeds are expected to help with the creation of new businesses and industries that our minds can't even fathom at the moment. In addition, 5G dataspeeds will be able to support self-driving vehicles and other technologies that might have seemed like science fiction a few years ago.
While the results released today clearly show Verizon in front, there is a long way to go before any U.S. carrier can claim the title of fastest 5G network. We need to see the wireless operators fully build out their new networks using all of the tricks in their arsenal before a winner is announced.

Recommended Stories