Verizon wants to be your Daddy just this Wireless Safety Week
3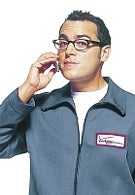 In a funny attempt to mark the ongoingWireless Safety Week, Verizon Wireless has compiled a list of tipsand tricks they thought you might find useful. While we have to givethem credit for trying, the tips are full of common sense logic thatwill be the only thing you need leaving your home with yourcellphone, instead of Verizon's safety list.
Take a charger and a headset on longcar rides, don't leave your phone in the sun, or learn how to text inemergencies are all commendable advices, which, if you cannot giveyourself, you shouldn't probably be driving in the first place.
The only safety tips that bring addedvalue here are the ones that point to paid apps for different deviceson the Verizon network. The advice to buy the WeatherBug orSafe Sun UV Monitor/Timer apps we can somewhat stomach, butwill Boater's Checklist keep us safe at sea, orwill Multi-Purpose Safety illuminate our path with the phone'sLED while jogging in the dark remains to be tested.
For the full laundry list plus somelaughs, click on the source link.

source:
Verizon Wireless