Verizon vs AT&T, T-Mobile and Sprint subscriber and profit margin charts paint it red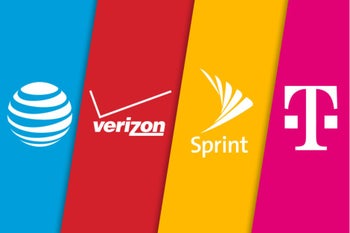 Buoyed by all the noise around
Sprint's merger with T-Mobile
, one could easily lose sight of the big picture, namely that the big two carriers still hold the lion's share of industry profits. Even if T-Mobile ties the knot with Sprint in the end, the combined carrier will still be smaller than Verizon or AT&T in terms of subscribers and revenue.
If you want to know how did the big four mobile carriers do in the last quarter, look no further than the research firm Morgan Stanley's report that ranks Verizon, AT&T, T-Mobile and Sprint by subscribers, net adds (including the valuable postpaid segment), and the total postpaid churn rate that crudely shows how satisfied the users are with the respective carrier.
| | Subscribers (millions) | Net Adds (thousands) | Postpaid Adds (thousands) | Postpaid Churn |
| --- | --- | --- | --- | --- |
| Verizon | 152.65 | 37 | 199 | 0.97% |
| AT&T | 147.26 | 499 | 46 | 1.02% |
| T-Mobile | 75.62 | 777 | 686 | 1.08% |
| Sprint | 53.79 | 92 | 87 | 1.63% |
| U.S. Cellular | 5.05 | - | - | - |
That same churn rate is down for the big two - Verizon and AT&T - way lower than at Sprint or T-Mobile. Big Magenta, however, showed the biggest increase in the valuable postpaid adds of all four major carriers. T-Mobile used to be in a price war with them all, but now it's gotten its
prices on par with its Verizon
nemesis, yet it remains everyone's popular underdog of a carrier. We recently compared the
new unlimited plans
of the big four, and there is indeed very little difference in pricing now, save for Sprint, which, however, has some catching up to do when it comes to
coverage
outside of large cities.
As you can see from these latest Q2 stats, even when combined, Sprint and T-Mobile will be trailing the second AT&T at quite the margin, but hopefully, if the merger goes through, it will mean a litany of deals and discounted plans so that the
new T-Mobile
can carve extra market share for itself with the savings of scale it can achieve after the deal.
That's all fine and dandy, but it's Verizon that laughs all the way to the bank, with 68% earnings margin before taxes and depreciation, followed by Sprint and AT&T, with T-Mobile coming last to the profit margin party. Someone has to pay the price for that breakneck expansion, after all. In numbers, that's $4.12 billion added to Verizon's cash pile.
Of note, however, is that the
promised capital expenditure at Sprint
is in full bloom, and the carrier invested only slightly less than Verizon in its future this past quarter. AT&T, in its turn, can boast with the highest average revenue per user, squeezing every last buck out of its base.