Verizon versus AT&T: who has the better shared data plans?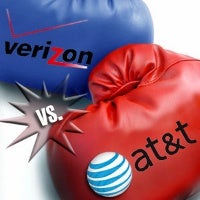 The two biggest carriers in the United States,
Verizon and AT&T, have now started offering shared data plans
so you don't have to pay a separate bill for every smartphone in the family. It's more for the sake of convenience rather than savings, so don't get your hopes too high.
The shared data plans on the two carriers are strikingly similar - both come with unlimited talk and text, and similar prices for the various data tiers. But while the pooled data plans on Verizon and AT&T are very, very similar, there are a couple of small nuances that over the long term will affect your bill by the hundreds, not the tens of dollars.
We've compared the prices between the two data plans, and if you pool up to three devices the difference never grows to over $10 a month between Verizon and AT&T. Those few dollars still add up over the long term so you'd better pick carefully. And what also changes your bill is the type of device you're using. The big fees are for smartphones, but if you go with a tablet, you'd pay a premium of $10, which is much more affordable.
Verizon offers the more tiers, so if you can be more precise with your data needs, Big Red offers this option for your savings, while AT&T jumps in bigger increments. Overage fees are set at $15 per GB on both carriers and both carriers include tethering for free, on even its basic plans.
Correction:
We've incorrectly assumed that AT&T charges the same for all devices. The table below has now been fixed with the right numbers.
Check out the tables below and see which option applies to you, and what's better to get in that case.