Verizon version of Samsung GALAXY Nexus can be yours for $1,200 on eBay
38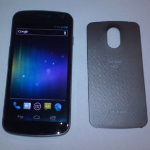 If you want to be the first on your block, maybe even in your state, to walk around with the
CDMA flavored, Verizon branded Samsung GALAXY Nexus
in your palm, better start checking your couch for spare change. One copy of the Verizon branded, Android 4.0 flavored handset is being offered on eBay for the price of $1,200. Shipping is $30 and the phone will be in your hand sometime between December 13th and 15th.
The latest rumor we have on a possible launch date is that
the phone will be released by Verizon on December 15th
. This is the word from some Verizon tipsters who are saying that store managers have been told to expect the phone
this coming Thursday
. Of course, other dates that had been bandied about like November 21st and December 8th turned out to be incorrect. Therefore, if you really need the phone now and money is not an issue, you might consider the unit up for sale on eBay.
Besides price, you have to also worry about whether or not
the seller really has the goods
that you are buying. The seller has a 100% rating with 30 positive feedbacks and no negatives over the past 12 months. The listing doesn't explain how the seller was able to obtain the unit, but the Verizon logo on the model's back cover seems to preclude the idea that this is a test unit.
Thanks to the law of supply and demand, the seller can charge $1.200 for the phone at this time, but once Verizon announces its official launch date, the price of the Verizon branded Samsung GALAXY Nexus will
drop in price sharply
.
source:
eBay
via
AndroidCentral