Verizon to roll out 4G LTE in 20-30 markets during the second half of 2010
This article contains unofficial information.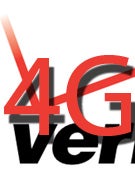 Verizon CEO Lowell McAdam told those attending or listening in to a conference call that Big Red would have started to roll out its 4G LTE services in 20-30 markets by the second half of next year. Nationwide build-out would be targeted for completion by late 2013 to early 2014. The Long Term Evolution service will be the 4G network that will supplement and eventually replace the current CDMA system and is expected to be compatible with similar LTE services being developed at AT&T and MetroPCS. Average data speed will be between 8-12 Mbps. At the conference call, Verizon disclosed that all of their LTE devices will have swappable SIM cards. The carrier will have certification requirements above the minimum, which basically means that the swappable SIM cards will not be usable in devices not certified by Big Red.
In other Verizon news, the networker said that it wants to get into the online app store business in a much larger way than it currently does. Verizon revealed that it will hold an "application developer's conference" some time this summer. CEO Mc Adam said that Verizon will, "...open up the Verizon Wireless devices to all the thousands and thousands of apps you see on the web today." That would add to the company's currently small market share of the increasingly growing total of applications sold in online stores.
source:
Gearlog