Verizon to release an Android handset on 1 December?
9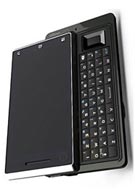 The saga of the first
Android
cell phone for
Verizon Wireless
continues. We have already
showed you
some pictures of the
Motorola
-developed device that was first known as the Sholes, then renamed to the Tao and now it seems it will be called the Droid. The web blog AndroidandMe also claims they got their hands on information about a handset that supposedly rolls out on 1 December 2009 and runs Android OS 2.0. The available details say the model designation is XXX, but the mentioned specifications are identical to what the Tao/Droid allegedly has. That is why we tend to think it´s the same cell phone.
As a whole, the email looks like an official press release and this is a tad odd. For an instance, the part about the OS version is rather dubious, since it was just several days ago when the version 1.6 (Donut) appeared on devices available through T-Mobile. We hope to find out whether or not this is possible at the MOTODEV summit or CTIA that takes place in San Diego this week. Still, take a look at the entire post via the link to Plandroid. It´s interesting to know that the information has already been taken down from AndroidandMe on pretext an "embargo" was laid on the details. So, do you think that´s a confirmation enough and we should prepare to storm the nearest Verizon shop on 1 December?