Verizon to offer texts to 911 by 2013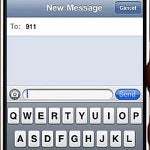 "Verizon is at the forefront of 911 public safety innovations, and today's announcement is another step in making SMS-to-911 service available to those who cannot make a voice call to 911. Our company is continuing its long-standing commitment to address the needs of public safety and our customers by offering another way to get help in an emergency by using wireless technology."-Verizon VP Marjorie Hsu
There are a number of legitimate reasons why someone in danger might not be able to call 911. The person might be hard of hearing or unable to speak, or perhaps the situation is just too dangerous for speaking to a 911 operator. There will be a solution soon as Verizon announced that it will be working with TeleCommunication Systems to allow its customers
to send text messages to 911 centers by 2013
. FCC spokesperson Tammy Sun was shining about the plan saying that the agency, "
commended the company for offering consumers another way to reach 911 that is consistent with how millions of consumers already use mobile devices in their daily lives
."
Back in 2010, the FCC itself said that it wanted to bring 911 into the Digital Age by offering SMS service. Outside of asking for ideas and exhorting the carriers on, nothing really has come of the FCC's involvement. For some time, there has been a need to update 911 services to allow those with
low battery strength or a poor wireless signal
, to summon help. In 2009, two girls stuck in as storm drain updated their Facebook status before seeking emergency help. In another case, a man sent out a tweet to report that a woman was having a seizure because he did not have enough battery life to make a call.
Verizon will be using its current CDMA SMS network to handle the texts to 911 and the service will be available to all Verizon customers sporting a phone that supports text messages and
have a service plan that includes text messaging
. Ironically, back in January 2011 during a snowstorm in Washington D.C.,
8300 calls to 911 on the Verizon network in the area failed
which led to an FCC probe.
BASKING RIDGE, N.J., May 3, 2012 /PRNewswire/ -- Demonstrating its continued commitment to advancing public safety, Verizon Wireless is taking steps toward offering many of its customers a new way to communicate with 911 call centers run by public safety officials. The company announced today that it has selected TeleCommunication Systems Inc., of Annapolis, Md., to participate in an initiative that will enable customers to send 911 SMS (Short Message Service) texts to the call centers, which are known as public-service answering points, or PSAPs.
While consumers should always first try to contact a 911 center by making a voice call, this enhanced SMS service, when deployed, will offer an alternative for customers on the Verizonb Wireless network who are deaf or hard of hearing and cannot make voice calls or who could be placed in additional danger by speaking. "Verizon is at the forefront of 911 public-safety innovations, and today's announcement is another step in making SMS-to-911 service available to those who cannot make a voice call to 911," said Marjorie Hsu, Verizon Wireless vice president of technology. "Our company is continuing its long-standing commitment to address the needs of public safety and our customers by offering another way to get help in an emergency by using wireless technology."
The company is working on plans to make the new capabilities available to select PSAPs by early 2013. Verizon plans to use its existing CDMA SMS network for 911 text notifications. The new service will be offered to Verizon Wireless customers who have a text-capable phone and a service plan that includes text messaging.
"TeleCommunication Systems has worked closely with the FCC over the past two years to develop its innovative technology for SMS to 911," said Maurice B. Tose, president and CEO of TCS. "As the preeminent U.S. supplier of SMS and pioneer in wireless E911, TCS is well positioned to enable Verizon in advancing its public safety commitment."
Verizon is working with others in the communications industry, PSAPs, the Federal Communications Commission and other federal and state agencies in the eventual deployment of this new service aimed at giving consumers new ways to communicate with designated public safety agencies.
source:
VentureBeat
via
Engadget