Verizon to offer four new smartphones
27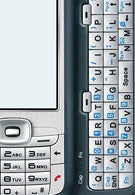 Samsung i760
,
Palm Treo 755p
,
HTC Libra
and
HTC Titan
(also known as Verizon Wireless SMT5800 and SMT6800) are about to appear with Verizon Wireless. Despite the identical EV-DO data, MP3 players and QWERTY keyboards, each of them has different features:
Samsung SCH-i760 is the only phone out of the four with stated release date and price. Its appearance is scheduled for October 19 (for online purchase) and November 2 (for stores release) at the price of $349.99, after a $50 mail-in rebate along with the additional $100 credit, which can be received under special terms. The new Samsung runs Windows Mobile 6 Professional OS and features QVGA touch-screen display, WiFi,
1.3
-megapixel camera, stereo Bluetooth, mini USB and microSD slot.
Palm Treo 755p strikes with its Palm OS, 1.3-megapixel camera, high resolution (320x320 pixels) touch-screen display with hand-writing recognition, Bluetooth, infrared port, USB and miniSD slot.
Qwest version.
Verizon Wireless XV6800 (HTC Titan) comes as the top smartphone among the Verizon's new offers. It features Windows Mobile 6 OS, WiFi, GPS, 2-megapixel camera, stereo Bluetooth, infrared port, USB and microSD.
source:
Verizon