Verizon lays egg with go90, officially plans to close it down at the end of next month
8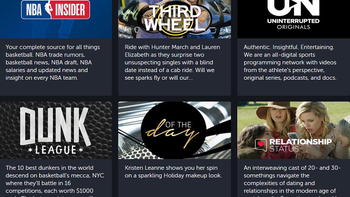 After trying its hand at offering a free, ad supported streaming video service called go90, Verizon has decided to pull the plug on the venture. After spending a reported $200 billion on content, the app is set to close on July 31st. Verizon couldn't seem to come up with any type of programming for the service that was compelling enough to rein in enough viewers. As a result, ad revenue was not high enough for Verizon to justify operating go90. The service had 17 million unique monthly viewers from all carriers at last count. But the nation's largest carrier failed to develop a sound marketing strategy for the app.
"Following the creation of Oath, go90 will be discontinued. Verizon will focus on building its digital-first brands at scale in sports, finance, news and entertainment for today's mobile consumers and tomorrow's 5G applications."-Verizon spokesperson
Some of go90's original programming could live on in Oath. While Verizon still has exclusive streaming deals with the NFL and NBA to stream games via Yahoo Sports, the carrier seeks more news, sports and entertainment content to stream over Oath related apps.