Verizon to conduct field trials next year for 5G service
19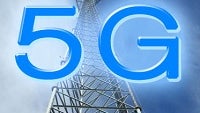 Verizon Wireless has revealed that it will be starting field trials of 5G wireless service next year, as it works toward the goal of a commercial launch of the next-generation mobile network. Roger Gurnani, chief information and technology architect for Verizon, says that "
some level of commercial deployment
" will begin as soon as 2017. Most analysts don't expect to see 5G available until 2020. The nation's largest carrier has already started working with Alcatel-Lucent, Cisco, Ericsson, Nokia, Qualcomm and Samsung (in alphabetic order) to get those trials going. At its innovation centers in Waltham, Mass., and San Francisco, Verizon has built testing grounds where 5G signals can be put through the paces.
Verizon says that 5G allows 50 times the throughput as 4G, and users will be able to download a full-length film in seconds. The carrier notes that 87% of its data traffic runs through its 4G LTE network, adding that 98% of the country has access to a 4G LTE signal.
Besides Verizon's 5G tests in the U.S., in South Korea, the hope is that a 5G pipeline will be up and running in time for the 2018 Pyeongchang Winter Olympics. Japan wants to have 5G service available in 2020 when it hosts the Summer Olympic games. Of course, having 5G service up and running means nothing without new handsets that can support the faster speeds.
"5G is no longer a dream of the distant future. We feel a tremendous sense of urgency to push forward on 5G and mobilize the ecosystem by collaborating with industry leaders and developers to usher in a new generation of innovation."-Roger Gurnani, Executive VP, Verizon

"The Verizon-led effort keeps the communications industry in the U.S. vibrant and globally competitive. A lot of development and requirements for 5G networks have so far come from Asian operators. It's exciting to see a U.S. company accelerate the rate of innovation and introduce new partners."-Rima Qureshi, Chief Strategy Officer, Ericsson
Thanks for the tip!
source:
USAToday