Verizon tells data hogs with unlimited service to change plans by February 16th, or get cut off
18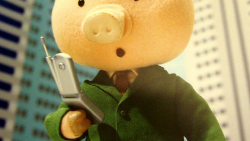 If you're a Verizon customer with an unlimited plan, you better not be a data hog. That would be defined by the nation's largest carrier as someone who consumes an incredible 200GB of data or more each month. According to a report published this morning, these data hogs will have to find a new Verizon plan or a new carrier by February 16th. If the customer does not pick a new plan by that date, his or her lines will be disconnected by Big Red. Verizon is suggesting that those in danger of being tossed consider a new Verizon Plan with an appropriate data bucket.
Verizon has sent out letters and we would imagine that most of them are targeted at unlimited customers who use 200GB of data or more every month. Still, there are some subscribers complaining that they have received the notice even though they are not close to the magic 200GB line. That is quite a lot of data, so we would imagine that most readers should not be concerned.
The new rules were instituted on January 5th. That happens to be the same day that
Verizon officially ended offering two-year contracts to existing subscribers
(new customers were already not offered two-year contracts since last August), and raised the activation and upgrade fee by 50% to $30.

Verizon seeks to move data hogs with unlimited service to another plan
via
DroidLife