Verizon teams up with BMW, Honda, others to bring LTE to cars
11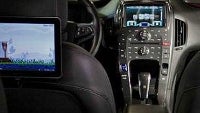 Verizon Wireless is serious about 4G LTE technology - it was the first to bring the high-speed network in its full glory to the wide masses, then it said it will only sell LTE smartphones this year, and now it's trying to make your car into one big 4G LTE hotspot.
How could that become a reality? How about setting up its own
4G Venture Forum for Connected Cars
including car makers like BMW, Honda, Hyundai, Kia and Toyota? Still not convinced? Then how about the engineering effort backed up by Massachusetts Institute of Technology's mechanical engineering professor Sanjay Sarma?
If that doesn't convince you, then probably the full press release below won't either, but you should still check it out. And yes, a connected car would be an even further distraction or help, depending on how you use it, right?
Verizon Joins With Leading Global Auto Companies To Establish 4G Venture Forum for Connected Cars
BASKING RIDGE, N.J., June 6, 2012 /PRNewswire/ – Verizon today announced the formation of the 4G Venture Forum for Connected Cars, a group of leading global automotive companies brought together by Verizon to accelerate the pace of innovation across the automotive and telematics 4G LTE ecosystem.
BMW, Honda, Hyundai Motor Company, Kia Motors and Toyota Motor Sales, Inc. are joining Verizon as the initial members of the Forum. Professor Sanjay Sarma of the Massachusetts Institute of Technology also joins the Forum, providing members a link to track important advancements in related academic research. The group will collaborate and explore ways to deliver connectivity to vehicles of all types, by leveraging open standards and discussing ways to accelerate development of the 4G LTE ecosystem across automotive OEMs, suppliers, device manufacturers, application developers and content publishers.
"There are many challenges to designing next generation telematics and infotainment solutions, including supporting safe and responsible driving, advancing vehicle-to-vehicle solutions and improving sustainability, among others," said Tami Erwin, chief marketing officer for Verizon Wireless. "As an innovator in the technology industry, Verizon is a natural impetus for this collaboration, which we all expect will include other companies and spur results that will benefit not only the industry, but millions of consumers around the world."
Telematics is a growing opportunity that integrates telecommunications and information into vehicles to provide functionality to drivers and passengers. The 4G Venture Forum for Connected Cars will help discover ways to increase the value of services, ranging from embedded cloud-connected solutions to mobile applications; help define features and explore safety systems; and encourage third-party developers in this space.
Verizon has a strong commitment to collaboration and innovation through its Innovation Program, and through the 4G Venture Forum, which was created in 2009 to identify and support new ideas related to advanced wireless networks and to provide market validation for innovative companies. The 4G Venture Forum for Connected Cars complements and extends the approach of the 4G Venture Forum, focusing exclusively on the automotive space to address the specific needs of this growing market.
Verizon Wireless has the largest 4G LTE network, now available in 258 markets and covering more than two-thirds of the U.S. population. The Forum may support and fund advancements regardless of underlying network technology; companies will not be obligated to work with Verizon and are not precluded from working with other service providers.