Verizon still getting the iPad?
This article contains unofficial information.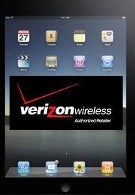 Just about a week before Steve Jobs held up the iPad in San Francisco,
the word
was that Verizon was going to be the iPad's carrier and that this time, Big Red would not make the mistake of showing Steve Jobs the door. So many thought that it was Verizon's time in the sun, that when Jobs announced that AT&T was to be the iPad's initial 3G carrier, the oxygen level in the room decreased by 50%. Now nearly a week after the tablet's announcement, there is word that perhaps Verizon isn't totally done. According to Silicon Alley Insider, Fox News reporter Clayton Morris has a source inside Verizon who tells him that a CDMA version of the tablet is still in the works, and would be a new hardware version. Two Wall Street analysts, Brian Marshall of Broadpoint AmTech and Ashkok Kumar of Northeast Securities both believe that a Verizon branded iPad is on the way. Marshall says, "Based on some of my datapoints, I still think VZ will happen in the near-term on the iPad and in 2H10 on the iPhone." On the other hand, both incorrectly predicted that Big Red would be named as a carrier at the event last week. And yes, Verizon could end up watching Apple and AT&T ring up accounts from the sidelines. Apple CEO Tim Cook said during his company's post earnings conference call that multi-carrier solutions are not the best option for every country. So we are back to the same rumors and guesses that mark Apple's lack of a relationship with Verizon. Apple's relationship with AT&T meanwhile, has obviously been repaired. But WILL Verizon get the iPad?
source:
SiliconAlleyInsider
via
AppleInsider