Verizon paints the Galaxy S III as Nexus, places its logo up front in latest promo
15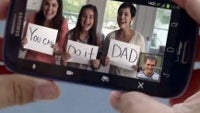 The launch of the
Verizon Galaxy S III
has been delayed over and over again, and while you're waiting for the phone Verizon put up a neat little promo video about the SGS III. After all, it's the most anticipated Android device of the year, right? No way, you could mistake it for say... a Galaxy Nexus, right?
Wrong. This latest promo paints picture of the SGS III with
on-screen function keys
just like those on the Nexus, but problem is that the SGS III already has a set of one physical and two capacitive keys for navigating your way around. Not a huge deal and reading that disclaimer at the beginning of the video saying that screen images are simulated might help clear the confusion, but Verizon could definitely do a better job of portraying the Galaxy S III correctly.
Also, weirdly enough, while we all expect the SGS III to launch across carriers with no operator logos on the front, this here promo unit has the Verizon branding right above the only physical button. Has something changed in the last minute, or is this just another instance of Big Red using its poetic license in this video? Pause it below at around the seventeenth second to take a look.
source: Verizon Wireless
Thanks, KingKurogiii!
Recommended Stories