Verizon now has 565,000 LTE subscribers after adding 500,000 in Q1
10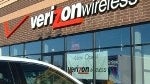 After a first quarter that saw Verizon add 500,000 new LTE subscribers, the carrier now has 565,000 customers who are taking advantage of 4G speeds. Big Red confirms that 260,000 of these subscribers signed up for LTE after purchasing the HTC ThunderBolt, Verizon's first handset to be 4G enabled. The ThunderBolt was available for only 2 weeks out of the 90 days in the quarter.
Betting on the number of LTE subscribers on Verizon to grow rapidly would seem to be a sure thing. On April 28th, as we
reported
, the Samsung Droid Charge will be launched which will be Verizon's second LTE handset.
Others are expected to launch throughout the year
including the Motorola Droid Bionic (aka the Targa). Also on the LTE horizon for Verizon are a couple of 4G enabled versions of Android tablets-the Motorola XOOM and the Samsung Galaxy Tab.
Verizon is chasing current 4G leader Sprint. Some have estimated that the Sprint has a couple of million 4G subscribers although the carrier never has broken out this figure officially. Sprint got off to a head start and starting selling 4G enabled handsets before Verizon even introduced the ThunderBolt. If Verizon keeps up the current pace of adding new LTE subscribers, by the end of 2011 it wouldn't be surprising to see Big Red overtake Sprint in this area.
source:
SidecutReports
via
BGR