Official: DROID BIONIC release date is scheduled for the summer, coming with enhancements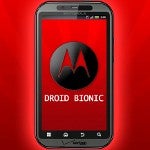 A few days ago we
exclusively informed you
there is a great likelihood that the handset which we met as the
Motorola DROID BIONIC
at CES 2011 won't be the phone that's going to see commercial release with the DROID BIONIC brand.
As you may remember, our tipsters claimed that the model that was showed-off during CES 2011 (codenamed "Etna") will never see the light of day. However, that's not to say that Verizon won't launch a phone named "DROID BIONIC", as it is alleged that Big Red is firmly determined to use this brand, only that it will be a different device altogether - please, shift your attention to the
Motorola "Targa
" (codename).
Confirmation now comes from Motorola
(quoted by WSJ) stating
the launch of the Motorola DROID BIONIC will happen in the summer. A spokeswoman gives the following reason for this postponement:
"Based on compelling feedback since [Consumer Electronics Show in January], we are incorporating several enhancements to make this an even better consumer experience."
Just what we told you, isn't it? What we saw at CES (the Etna) will not be released, replaced by the enhanced model (codenamed "Targa"), taking its name - the Motorola DROID BIONIC.