Verizon may bring shared data plans and ISIS next year
18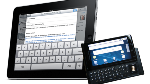 This is something we have been asking carriers to implement since the birth of the iPad: shared data plans, and now it seems that Verizon may launch it along with ISIS in 2012. We already knew that ISIS was planned to roll out next year, which may or may not have anything to do with the Galaxy Nexus
not having Google Wallet
, but the shared data plans have always been a dream.
At the UBS conference in New York City, Verizon Communications CEO Lowell McAdam said that ISIS should see a "significant rollout" by the end of 2012, but the surprise was that Verizon could launch shared data plans next year as well. It's becoming more and more likely that families will have multiple mobile devices, or even that single customers will have both a smartphone and a tablet, so shared data plans just make more sense.
Of course, we still don't know exactly how Verizon plans to price the plans. Given the carrier's history, we're expecting data tiers on the plans. McAdam also said that the company has been working on shared data "for a couple of years" (although we're not sure why it would take so long, aside from milking tethering fees for a while.)
Still, we're glad to know that shared data plans are on the way. We just hope the pricing is reasonable.
source:
Fierce Wireless
via
BGR