Verizon claims it's not blocking Google Wallet but has security concerns
17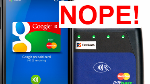 We already knew that Google Wallet would not be making its way to the Galaxy Nexus, and
yesterday the theory came out
that this was because Verizon would be supporting ISIS, the NFC payment system that it and other major carriers are backing. But now, Verizon has spoken on the issue, Google has responded, and we're left to decide who we believe.
Verizon spokesman Jeffrey Nelson said in an e-mail statement to Bloomberg today that Verizon is working to have "the best security and user experience" and that Google Wallet would be allowed when it met those goals. But, Verizon has said that it isn't blocking Google Wallet, but has to consider it differently because of how it needs to be integrated into hardware. Verizon also claimed that it doesn't block software, but anyone who has tried to tether on the carrier knows that isn't true.
A Google spokesman, Nate Tyler, responded to those claims by reaffirming the security in Google Wallet and that the platform had been "designed from the ground up with security as a priority." Aside from that he said/she said, the prevailing theories are that either Verizon is trying to keep out competition from the Isis system, which won't be launching until next year, or the inclusion of Wallet is part of the negotiations over contract terms and data sharing between the companies.
The only US carrier that has allowed Google Wallet is Sprint, which is the only major US carrier that hasn't backed Isis. Of course, Sprint is also the only carrier with an NFC-enabled Android phone in the Nexus S.
There's no real way to figure out the truth of the whole mess, but Verizon's argument is the weakest of all, and Google has simply earned our trust far more than Verizon has.. If we're to believe the
reports that the Android 4.1 update
has been made to fix issues that Verizon found with the Galaxy Nexus in testing, then it would seem to follow that Google would update Google Wallet with any security fixes that Verizon deemed necessary.
source:
Bloomberg
&
Droid Life