Verizon iPhone 4 Mobile Hotspot demo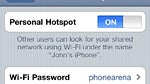 If there is one nifty and useful feature that's enabled for the
Verizon iPhone 4
that isn't on the AT&T version, then it has to be its
mobile hotspot
functionality that enables handset to share its data connection with up to 5 Wi-Fi devices. Naturally, this isn't something that's included with your monthly data plan, but rather, it requires you to tack on an additional $20/month charge onto your account. Once you've made the decision and managed to get it squared away, the only thing left to do is to power up the Verizon iPhone 4 and get it turned on for the very first time.
Simply, you can basically access the mobile hotspot function by getting into "Network" settings and then clicking on the "Personal Hotspot" button to turn it on. From there, it's a fairly straightforward process where you can toggle on/off the feature and set the security password for the Wi-Fi hotspot. In addition, there are also other connectivity options as well which include your normal USB connection or Bluetooth. And whenever a device connects to the iPhone 4, it'll notify you across the top portion of the screen.
In our testing, we managed to connect 3 different smartphones and 2 netbooks to the iPhone 4 without much difficulty. Speeds are reasonably acceptable, but they're nothing close to the peppy speeds you'd come to experience from a dedicated cable line. Furthermore, we were still able to connect to the iPhone 4's Wi-Fi hotspot with acceptable signal strength from another room which was approximately 20 feet away. Of course though, there appears to be some adverse effects in the experience when heavy usage is in play between all the connected devices. In the end though, the functionality is more than welcomed with open arms and can be one driving factor that can lure in potential customers.