Verizon has a secret passion for clamshells?
13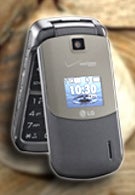 Verizon has a lot of clamshells in its lineup, but now some information got passed on to us, going the carrier is getting ready to launch two new handsets of the same form-factor. The first one seems to be called the
LG Accolade
… and for those of you who keep track of the confusing model numbers that belong to LG phones on Verizon, this one should be the VX5600. The LG Accolade will be a pretty simple handset with a 1.3-megapixel camera and Bluetooth. Not excited yet? Oh, then wait 'til we tell you about the second clam, the
LG Clout
! No, we are joking, there's nothing that exciting about this one either. The only thing we know here is that it will probably replace the
LG VX8360
(we don't want to sound like nerds or something, but we actually have a pretty
thorough review
of this phone). We hear what you're saying, that's enough info for us too.
Thanks, Eric!