Verizon getting a new 4G LTE Router expected next week
11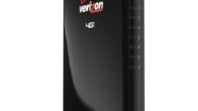 Back in 2011,
Verizon said it was developing a Netgear 4G LTE router
(model MBR1000), but that it was intended for use by companies, which could have it deployed on rail, bus or select coastal marine vessels; as well as in mining, construction, logging, parks, and rural areas. But since then, there hasn't been much info about the device.
Then
we received a leaked document
a few weeks ago showing Verizon was going to release a 4G LTE router to its customers on August 8th, though it's not clear if it's the same model from 2011 or an updated version.
Today, a friend of ours was able to get us some more details via a document that shows the features and specs of the
Verizon 4G LTE router
.
You can basically use it at your home, while traveling, even in a hotel room, as long as it is in a location where there is Verizon 4G LTE or 3G EVDO coverage. It features two external antennas, which should allow for it to pick up a better signal than a Jetpack or USB Modem. The Wi-Fi range is 150' for indoors and 300' for outdoors, and supports up to 20 Wi-Fi connected devices, or 4 devices via Cat5 cable. Pricing is $20/month for customers with a Verizon Share Everything plan.
Thanks again to our friend for the info!