Verizon expands coverage at the ballpark, including Kansas City for the All-Star game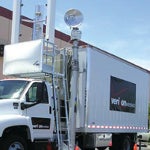 Over the weekend, we told you
how hard it is for those watching a game at the ballpark to receive a decent data connection
while sitting in the stands. Verizon is trying to make using a smartphone at the game a better experience for its customers. It all
starts with the All-Star game in Kansas City
, a city where Big Red has had an LTE network up and running since last November. A Verizon COLT (Cell on Light Truck) will be outside the park during the All-Star game on Tuesday to enhance the network's 4G LTE signal. COLT is a generator powered cell site that has the same capacity as a freestanding cell site. Big Red rolls it out when it anticipates larger than normal demand for it network.
In Detroit, the team's name ins the Tigers, but it is
Verizon's COW that is enhancing the current wireless traffic
in the area. The Cell on Wheels is a mobile, generator powered cell site that works best for dense crowds in a small area. The downtown area by the Tiger's Stadium should have improved 3G and 4G signals thanks to the COW. In Miami, where the Marlins have opened their new Marlins Park with the retractable roof, Verizon installed 4G LTE and 3G EV-DO base station equipment and connected it directly to the ballpark's DAS. At the same time, capacity was increased at cell sites near downtown Miami.
source:
Verizon