Verizon drops gender specific ads for the Palm Pre; phone's not just for Mom anymore
6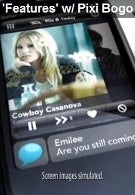 It was a bit of a shocker, as we reported, when Verizon came out of the chute with the Palm Pre Plus marketing the phone to Mom. Yeah, Valentine's Day was approaching and all, but the ads were so soft and-for lack of a better phrase-feminine, especially when contrasted with the Rock and Roll, in your face, loud macho spots for the Motorola DROID. And sure, women use smartphones too. But it seemed as though Big Red had not really studied what happened with some of the Palm Pre spots that Sprint ran. If you recall, those ads were so avant garde that they made no sense and never focused on the webOS operating system that many felt was the main selling point of the phone. And if screwing up the ad campaign for the Pre wasn't enough for Sprint, they practically repeated the experience when the Pixi was launched.
Whether it was the (lack of) sales numbers or the marketing department just coming to its senses, Verizon has changed the spots to concentrate on the handset's styling, software and of course, the Verizon 3G network. With this spot, Big Red talks about the features that would appeal to everyone. The styling appeals to all, the Notification page shows a text in progress that would appeal to the teens and young adults and talk of a syncing calendar showing events like Timmy's guitar lesson and baseball game is aimed at the parents. Verizon has apparently learned what Sprint did not pick up on and that is that the content of a television ad campaign is important when selling smartphones and no matter how many consultants tell you otherwise, an ad that just shows someone's head spewing forth rambling comments does not really tell much about a phone.
Note that Verizon's BOGO deal is supposed to change today from what you see at the end of this spot. Check our earlier story
here
.
Palm Pre Plus Specifications
|
Review
source:
YouTube
via
precentral