Verizon cuts Galaxy S5, HTC One (M8), Lumia Icon prices to $99.99 on contract
18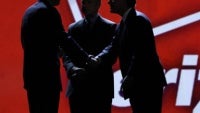 Verizon has upped its competitive gameby reducing the prices of some of today's most formidable flagshipsmartphones to just $99.99 on a two-year contract. Namely, they arethe Samsung Galaxy S5, the HTC One (M8), and the Nokia Lumia Icon.There is a catch, though - apart from signing up for two years,prospective Galaxy S5 owners also have to put in a $50 mail rebate.
Before setting the $99.99 price instone, Verizon carried both the S5 and the M8 at $199.99 with theoption of buying one phone and getting another free - with acontract, of course.
It would be pretty easy, and notnecessarily realistic to conclude that Verizon is reacting topressure after losing subscribers for the first time in its history.In the first quarter of 2014, the USA's largest carrier lost about138,000 postpaid phone subscribers - an event which analyst CraigMoffett called a "shocking turnaround". Although Verizonposted more than double profits and a 4.8% revenue growth, it cannotbe denied that Sprint and T-Mobile's aggressive price cuts and feeeliminations are lighting up the wireless industry in anunprecedented manner.
via UnwiredView