Verizon cuts $100 off the Motorola DROID RAZR MAXX and wants you to add Color for Facebook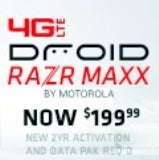 A few days ago,
we showed you
an advertisement image saying "Save $100 on a DROID RAZR MAXX" that was taken at a Verizon store, though the promotion had not started yet.
It looks like today may be the day, as the main Verizon Wireless web site now has a banner showing the
DROID RAZR MAXX for $199
- but also mentions the
Color for Facebook
app. Why, you may ask? Most likely because Verizon, Motorola, and Color for Facebook are teaming up with Saturday Night Live - as they will be streaming
live backstage footage
during the show on May 19th. You'll just need to make sure the app is installed on your smartphone and "like" Verizon Wireless or SNL on Facebook.
source:
Verizon Wireless