Verizon changing the data plan pricing for their feature phones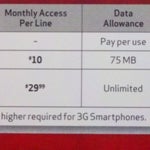 As you may remember, last year Verizon
imposed mandatory data plans
on all of their 3G feature phones, which was $9.99 for 25MB of data per month, or $29.99 for unlimited data. This didn't go over well with customers, and most feature phones don't have a full web browser, and you'd be paying a minimum of $120 a year for data that would most likely never be used. Then
a few months later
in October, Verizon reversed themselves (probably due to poor sales of feature phones) and no longer required data packages for those devices. If you then did happen to use data, you would be billed a pay-as-you-go rate of $1.99 per MB, or could get a 150MB data package for $15 a month, or unlimited data for $30.
Now one of our tipsters has sent us the image below of what the new data plan will be for feature phones. It appears that the $15 for 150MB plan will be replace with one costing $10, but will only include 75MB. If you go over your 75MB, you'll then automatically be billed $10 for another 75MB. Even though you will be saving $5 a month on this new plan, the price-per-MB is actually more at 13 cents, where the older plan was running 10 cents per MB. Current customer can choose to keep the older 150MB $15 plan, but soon new customers will only have the option of the pay-as-you-go $1.99 per MB, $10 for 75 MB, or $30 for unlimited. 3G Smartphones remain unchanged requiring the $30 unlimited data plan.
If you have some interesting info that you'd like to share with us, feel free to
Tip Us!