Verizon planning on requiring data plans on all 3G phones?
This article contains unofficial information.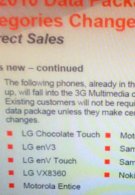 With the busy holiday season behind us, Verizon Wireless is wasting little time in getting the attention of the industry. BGR has just received some new pieces of information that indicates Verizon Wireless requiring data plans for possibly all 3G handsets. The number one wireless provider is setting the pace by mandating all 3G-capable phones, whether it be Rev. 0 or Rev. A , to require a minimum $9.99 data plan which includes 25MB of data per month. First introduced during the launch of the Samsung Rogue, Big Red required non-smartphone handsets offering an HTML browser to have a data plan attached to it. It can be a good or bad thing depending on which point of view you take side. Handsets dubbed as "3G Multimedia devices will be affected by this new change starting January 18th. The 75MB data plan they have in place right now will be going away with a $29.99 unlimited option taking its place – hence it's like any smartphone data plan. We'll see how this move will impact the industry – will other carriers follow suit?
source:
BGR