Verizon apparently to get EVO styled device with similar specs
51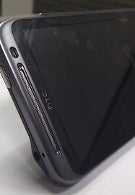 What is that mysterious HTC device pictured below? With one source saying that this phone makes the DROID 2 look like a "kid's toy", that certainly piques our interest in this mysterious stranger. The brushed aluminum casing screams out "high-end" as does the 4.3 inch display. Let's not forget the 8MP shooter in the back and the front-facing camera, which would be a first for a Verizon branded model. The kickstand helps you watch videos comfortably at the right angle, and the 3.5 mm audio jack lets you enjoy multimedia programming without disturbing others. One person familiar with the phone said it is like an EVO placed in a bigger and more refined Nexus One body.
We recently
reported
on a leaked Verizon roadmap which included the HTC Merge, expected for a November launch. The Merge is expected to offer a 10MP camera, not an 8MP one, which rules out that model. We can't even asacertain which build of Google's open source OS will be under the hood, although we do know that the HTC Sense UI will be on board..
We can imagine that a number of Verizon customers are staring at the pictures, eyes glazed, drool dripping from each corner of the lips, and hands ready to open up the wallet to produce a credit card. All we can say is to keep checking for more news about this device, like the name, launch date, price and a broader look at the specifications.
HTC EVO 4G Specifications
|
Review
source:
BGR