Verizon and AT&T team up to lease new cell towers being built by a third party
3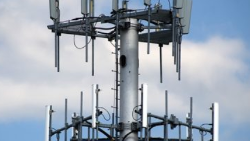 The nation's top two largest mobile carriers, Verizon and AT&T, are teaming up with Tillman Infrastructure to build hundreds of cell towers. Tillman will be building the towers to the specs requested by the two mobile operators, and both Verizon and AT&T have agreed to lease them. The structures will be built at locations where there are no cell towers at present, allowing the carriers to move some equipment off of existing towers and on to the new ones once they are built.
Construction work on the new structures will begin in Q1 of 2018. Verizon says that once the towers are built, network engineers will come in and install the necessary equipment. The carriers then hope to "turn the sites on quickly."
We all know what Verizon and AT&T do. Tillman is in the business of owning and operating towers, small cells and smart cities infrastructure. And while it isn't one of the more well known names in the industry, Verizon and AT&T say that they picked Tillman on purpose. Verizon's Chief Network Officer Nicola Palmer said in a statement that Big Red is looking to "develop new vendor partners to diversify our infrastructure providers."
"We continue to focus on technology innovation and investing in the latest software platforms to provide the best possible customer experience on our network. At the same time, it is imperative to reduce operating costs. We are reviewing all of our long-term contracts as they come up for renewal and we are excited to develop new vendor partners to diversify our infrastructure providers."-Nicola Plamer, CNO, Verizon

"We need more alternatives to the traditional tower leasing model with the large incumbents. It's not cost-effective or sustainable. We're creating a diverse community of suppliers and tower companies who will help increase market competition while reducing our overhead,. We look forward to working with Verizon as we establish site locations and sign new lease agreements with additional suppliers in the coming years."-Susan Johnson, SVP of Global Supply Chain, AT&T
source: Verizon