Verizon adds the Samsung Galaxy S7 and S7 edge to its Annual Upgrade Program
7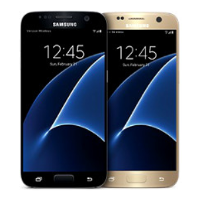 Verizon has just announced that it is adding the
Samsung Galaxy S7
and the
Galaxy S7 edge
to its Annual Upgrade Program.
Previously
limited to Apple's iPhone 6s series
, Big Red's upgrade program allows those who purchase the Samsung Galaxy S7 or S7 edge through its equipment installment program to upgrade to a new smartphone each year.
Verizon says that those who've pre-ordered one of Samsung's new premium smartphones have been already enrolled in the program. As soon as you've paid more than 50% of the device price, but not earlier than 30 days since activating the new phone, Verizon will allow you to upgrade to a brand new smartphone. At that point, you'll turn in your Galaxy S7 or Galaxy S7 edge and hop on a new 24-month payment cycle for the new device.
Verizon says that customers will be able to switch to any phone once they've been enrolled in the Annual Upgrade Program. However, to remain on the program and keep updating each year, customers will have to switch to a phone that's supported by the program. At the moment, this limits your options to the
Apple iPhone 6s
series and the Samsung Galaxy S7 series, but the list will surely get bigger as newer models hit the market.
Whenever you decide that don't want to take advantage of Verizon's Annual Upgrade Program, you can simply keep making payments until you pay off the phone.
The Samsung Galaxy S7 is available on Verizon for 24 monthly payments of $28.00. The larger Galaxy S7 edge will set you back $33 per month for the next two years.
For a limited time, those who switch from another carrier will receive $100 in bill credit when activating a Samsung Galaxy S7 or S7 edge on Verizon's network. That's on top of the up $650 that Verizon will pay to cover early termination fees, and the extra 2GB of data per month that Verizon usually offers for those coming from another carrier.
If you're already a Verizon customer but decide to upgrade to one of Samsung's Galaxy S7 models, Big Red is offering up to $300 and a minimum of $100 when you trade in your old phone. For more details on the promotion, head on over to the source link below.