Verizon Wireless expands its Home Phone Connect service
23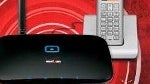 Do you remember the
Verizon Wireless Hub
from two years ago? If not, we can't blame you, as it was
discontinued
only after a few months on the market. It was an interesting concept, if it were 2001, but was a bit overpriced for a VoIP phone, and didn't really offer anything new that smartphone or PC could do.
A couple months ago Verizon Wireless began trials of it's newer home-phone service called
Home Phone Connect
in the New England area, but starting today it has been expanded to the rest of Verizon's territory. But unlike the HUB that required a connection to your home's broadband connection and used VoIP, the Home Phone Connect is simply a CDMA transmitter and receiver that connects your house phone to Verizon's CDMA cellular network. Sounds simple enough, right? The installation instructions say that all you have to do is install the back-up battery in the bottom of the device (in case you lose power), connect the antenna to the back, and connect your phone to it using a standard RJ11 telephone cord (though it doesn't say if you can plug the Home Phone Connect right into your wall-jack so it will send service to all connected house phones in other rooms). It also comes with Voice Mail, and you can use call waiting, call forwarding, 3-way calling, call return (*69), and has built-in GPS for emergency 911 calls. There is also Caller ID, but according to the
User Manual
, it will only show the incoming caller's number, not their name....just like when using a cell phone.
The
Home Phone Connect
device retails for $129.99, but you can get it for $49.99 with a 1-year contract, or Free with a 2-year contract. Now here's the interesting part, you have to be a Verizon Wireless customer to buy it, and can either add it to your Family Share plan for $9.99/month (which uses your cellular plan's calling minutes), or you can opt for the $19.99/month unlimited calling plan - which to us sounds like the better way to go, as who wants to use the cell minutes when using a house phone. You can also port over your current home number, or apply for a new one. But keep in mind that the Home Phone Connect does use Verizon's CDMA network, so if you're in a area where you get poor cell reception inside your house, you may be get the same reception on this device as well. The provided information doesn't specify if you can use the Home Phone Connect in conjunction with the Verizon Network Extender - but were guessing probably not.
We're not sure if this device will catch-on, or be a dud like the HUB. The pricing of the device and $19.99/month for unlimited home calls is competitive, but you're using Verizon's CDMA cellular network for your house phone. Depending on where you live, this may be a good or bad thing. If you have a home broadband connection (such as Comcast) you can get an eMTA VoIP modem from them, which costs about $5/month to rent the hardware, and $20-35 month for the calling service.
source:
Verizon Wireless