Verizon Wireless and Casio lift the cover off ruggedized Casio G'zOne Ravine 2
17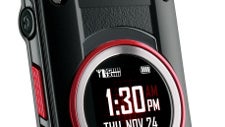 The
Casio G'zOne Ravine 2
, a tough warrior with military standard ruggedized design, has just marched in the Verizon Wireless lineup. The G'zOne Ravine 2 is the successor of the
first Ravine
, a PTT rugged handset released on Big Red a year ago. Just like the original Ravine, the second edition comes in a flip phone form factor with only a tiny screen with the clock displayed when the clamshell is closed and an instantly noticeable red button on the side for push-to-talk.

The Ravine 2 ships with the
G'zGear application
delivering essential information for the targetted outdoor active user. G'zGear shows an Earth compass, a World Nature feature orienting you about your orientation towards the North Pole or other important objects, and you also get a step counter, a sunrise/sunset clock and tide information for various US cities among the heaps of features.
The G'zGear Ravine 2 is a
feature phone
, of course, so when speaking about pure specs we should take this into account. We have a 1.38-inch screen on the exterior, a 2.5mm headset jack and memory extendible via microSD cards of up to 32GB in capacity. There's also a 3.2-megapixel snapper.
The Casio G'zGear Ravine release date is soon - on November 23rd for $149.99 after a $50 mail-in rebate, if tied to a 2-year contract with Verizon. Online however it will appear even earlier - in just two days on Thursday, Nov 17th.
BASKING RIDGE, NJ — Verizon Wireless and CASIO today announced a new addition to the rugged and tough category, the CASIO® G'zOne Ravine® 2 on the nation's most reliable network. Compact and durable, the CASIO G'zOne Ravine 2 was created with outdoor enthusiasts and field workers in mind, and global roaming allows users to communicate in more than 200 countries around the world.
Designed to withstand the most extreme conditions, the CASIO G'zOne Ravine 2 is equipped with the popular G'zGEAR software. G'zGEAR operates in seven modes to enhance the active-driven lifestyle, allowing adventurers and outdoor workers to perform at their peak around the world. Perfect for the most rough-and-tumble hiking trails, the CASIO G'zOne Ravine 2 can withstand and rise above dust and errant sprinkles, and navigate through rough, wet, dry or snowy terrain. Obnoxious shocks are seemingly a thing of the past with this heavy-duty phone.
The CASIO G'zOne Ravine 2 is ideal for industries such as construction, transportation, law enforcement and military. Workers in hazardous environments such as construction sites, warehouses and factory floors require a device that is reliable, easy to use and has the capability to withstand extreme wear and tear.
Key features:
Meets Military Standards 810G for immersion, water, shock and dust resistant, vibration, salt fog, humidity, solar radiation, altitude and low and high temperature storage
Global Ready™ device allowing customers to enjoy wireless voice and data service in more than 200 countries
Push-to-Talk capable for fast two-way communication
Opera Mini Browser for mobile Web browsing
Full suite of messaging options, including text, picture, video and voice messaging and mobile instant messaging
VZ Navigator® – receive audible turn-by-turn directions to millions of points of interest and share directions with others, includes access to mobile Web and email
V CAST Tones – download ringtones and ringback tones
Supports up to 32 GB microSD™ card
Bluetooth® support includes headset, hands-free, stereo, phonebook access, object push for vCard and file transfer
3.2-megapixel autofocus camera with flash and camcorder
1.38-inch external color display
2.5mm headset jack
Lifestyle features:
G'zGear operates in seven modes:
Earth Compass – Functions as a standard compass, while the GPS shows the distance and direction to several domestic and international landmarks, including Yosemite National Park and Mt. Everest.
Walking Counter – From the start of your journey, the Walking Counter measures steps, distance and energy consumption, and total steps for the day, week or month. It also provides virtual treks for famous North American trails and roads, including Mt. Kilimanjaro, Annapurna Circuit, Torres Del Paine Circuit, John Muir Trail and Transcontinental.
Astro Calendar – Provides the moon's age and days until a full or new moon.
Tides – Showcases the tidal graph for the day; the time of tide ebb and flow; current, past and future sea tide levels. GPS displays the nearest location map.
Thermometer – Displays current temperature in both Celsius and Fahrenheit with numeric and graphic thermometer readings, and allows the user to compare current temperatures across multiple locations.
Sunrise Sunset – Check the time of the next sunrise, sunset, moonrise and moonset. Track the moon phases for your current location.
Star Gaze – Utilizes GPS to displays the stars and constellation names based on the current season and time.
Pricing and availability:
The CASIO G'zOne Ravine 2 will be available online atwww.verizonwireless.com on Nov. 17, and in Verizon Wireless Communications Stores on Nov. 23 for $149.99 after a $50 mail-in rebate with a new two-year customer agreement. Customers will receive the rebate in the form of a debit card; upon receipt, customers may use the card as cash anywhere debit cards are accepted.
Verizon Wireless customers can add unlimited Push to Talk for $5 per month, per line to any qualifying nationwide voice plan.
For more information on the CASIO G'zOne Ravine 2 or for other Verizon Wireless products and services, visit a Verizon Wireless Communications Store, call 1-800-2 JOIN IN or go towww.verizonwireless.com. Customers can visitwww.CasioGzOne.com to experience the CASIO G'zOne Ravine 2.
(EDITOR'S NOTE: Media can access high-resolution images of CASIO® G'zOne Ravine® 2 in the Verizon Wireless Multimedia Library at www.verizonwireless.com/multimedia.)