Verizon, T-Mobile ranked leaders in customer care by J.D. Power and Associates
18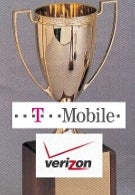 J.D. Power and Associates has completed its Customer Care Performance Study, Volume 2, for the wireless industry. The study covers the first half of 2009 and ended with a three-way tie at the top. T-Mobile, Verizon and Verizon-acquired Alltel were the three names in first place after the completion of the study. Jack Plating, executive vice president and COO of Verizon Wireless, said that the carrier has always been recognized as a leader in customer care, and acquiring Alltel brings together two leaders in serving subscribers which enables the carrier to make the customer experience even better. T-Mobile's senior vice president of customer service, John Birrer, said that T-Mobile was excited about being one of the industry's top customer service providers for the 9th time. He went on to add that his company is committed to helping subscribers to the network get the full potential from T-Mobile's phones, network, plans and services.
Although the total scoring of the study resulted in the three way tie, T-Mobile ranked first for calls that started with voice-prompted assistance which ended up transferred to a live employee. The carrier also scored above others by having the lowest hold times and by having staff with sufficient information to help solve the customer's problem.
The Customer Care Performance Study is based on more than 12,000 responses from cellular phone account holders who contacted customer service at the stores, on the phone or online. The study ran for 12 months and the results are reported twice a year.
source: Verizon Wireless, T-Mobile