Verizon Samsung Galaxy S7 and S7 edge updates tweak software, help protect waterproofing
10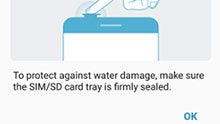 Samsung's
Galaxy S7
and
Galaxy S7 edge
are already two of this year's most popular new smartphones, and they're only getting better with age, as the arrival of new software updates continue to stamp-out bugs, improve system stability, and deploy new features. We just told you about
the latest updates rolling out for GS7 and GS7 edge users on T-Mobile
, delivering things like FM radio support. Now it's Verizon's turn for some Galaxy S7 update action, as the carrier gets starts delivering some updates of its own.
Verizon just published the changelogs for the software updates on both phones, including things like an improved Always on Display clock roaming display when you're traveling to new time zones, an improved interface for analyzing app performance and memory consumption (helping you spot any problem software), and bugfixes galore.
The Galaxy S7 edge gets some unique enhancements of its own, including quick-glance events for the Calendar Edge panel and an expanded "new features" section to help explain some of the phone's capabilities to curious users.
These updates are also doing what they can do make sure that all Samsung's work in
bringing back waterproofing to the Galaxy S family
isn't going wasted. The new software for both the Galaxy S7 and Galaxy S7 edge delivers messages to remind users to keep their SIM/microSD tray tightly sealed, helping to keep any moisture outside, and not sneak through a crack in the phone's waterproofing armor.
By all means, pop that tray open and equip your flagship with
a nice, big microSD card befitting its majesty
– just make sure you snugly secure it afterward.
source: Verizon (
GS7
|
GS7 edge
) via
Android Central
Recommended Stories