T-Mobile Samsung Galaxy S7 and S7 edge update brings FM radio, May security patch
35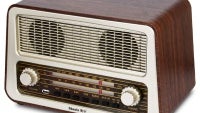 T-Mobile's
Samsung Galaxy S7
and
Galaxy S7 edge
have recently received a software update that activates the FM radio and applies the May Android security patch.
Although
most smartphones on the market come with FM radios
, most manufacturers opt to disable this functionality in their phones, favoring digital streaming instead of traditional radio stations. The Samsung Galaxy S7, like all Snapdragon 820-based devices, comes with a dormant FM radio. However, thanks to a recent update, those with a T-Mobile Samsung Galaxy S7 or S7 edge can now tune in to local radio stations from their handsets.
The update that activates the FM radio on T-Mobile Samsung Galaxy S7 units landed on May 3rd. The changelog mentions that the update enhances voice services, updates Samsung Pay, and brings "various system improvements". As it turns out, one of these improvements is the activation of the FM radio.
Now, since the update does not introduce a dedicated FM streaming app, users will have to download a third-party one. Note that, before tuning to your favorite radio station, you'll need to plug in a pair of headphones, which will act as the physical antenna.
At this point, it should be noted that the Sprint Galaxy S7 and Galaxy S7 edge versions came with an active FM radio receiver from day one. T-Mobile is actively encouraging device makers to activate dormant FM chips, and this despite the fact that the Magenta carrier is the only carrier in the US to allow free music streaming through its Music Freedom program.
What do you guys think of this recent update for the Samsung Galaxy S7 and Galaxy S7 edge?